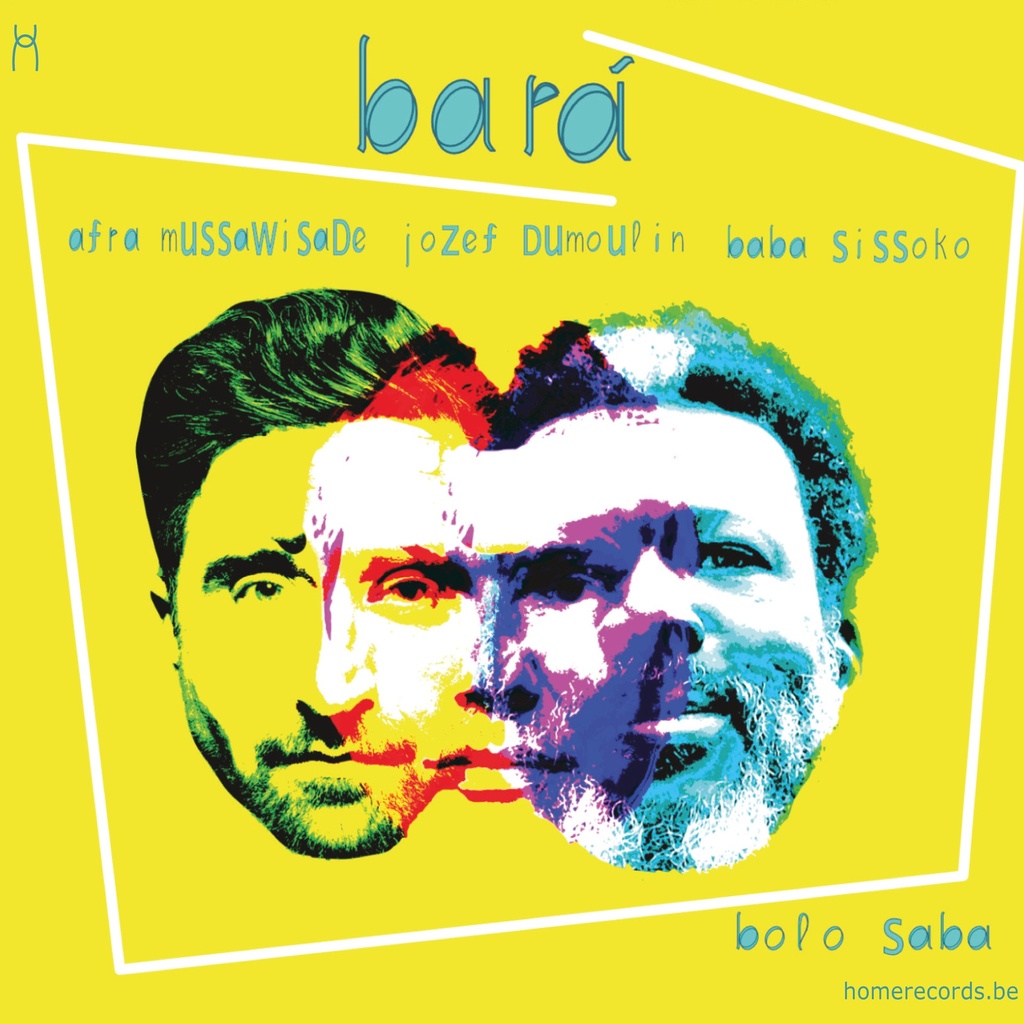 EN
The musicians of Bará, nomads on the planet, touring since decades with varios international projects. They have all met and played together in other formations for many years, but co- create now for the first time in Bará. At first, the Bara's West-African influences are most striking. Baba's distinctive voice, the repetitive and hypnotic musical structure so typical for the music from Mali, the often used call & response (in concerts, they are supported by 2 background vocalists), the pace- making Ngoni patterns. But as one submerges more in their musical realm, new doors keep opening and unexpected elements are woven into the tapestry. This music clearly reflects their daily realities of life in modern cities - allowing sidesteps into Jazz, Fusion, Jazz-rock, Ambient and other styles. Yet all influences are melted effortlessly with their cultural backgrounds into one sound, without ever loosing the state of hypnotic trance. This trio is not playing traditional music, although it shows a deep love for it. As Jozef puts it: "I have so much love and respect for traditional music in general, and Malian music in particular, that I would never want to just copy it." There is a basic trust, which is also the core message of their playing. If they have experienced any cultural clashes or adversities in their lives, their music gives no sign of that - it rises far above that. And isn't that the power, beauty and magic of music? that it's a global, non-verbal form of communication and sharing. In the Malian tradition, griots are deputed to calm down hearts and souls, by means of music. For Baba, Trio Bara is "an example for showing the world, that life is simple and beautiful when we live together in peace and respect."

FR
Les musiciens de Bara sont nomades, ils tournent depuis des décennies dans différentes formations à travers le monde. Ils se sont croisés dans différents groupes avant de créer ensemble pour le Trio Bara. Ce qui saute aux oreilles ce sont les influences ouest-africaines qui sont marquantes, la voix singulière de Baba, la structure répétitive et hypnotique de la musique du Mali qui utilise souvent les appels et les réponses et aussi les phrases du Ngoni ce luth de l'Afrique de l'ouest qui propose le rythme et l'harmonie. En nous laissant submerger des nouvelles portes s'ouvrent et des éléments inattendus se tissent dans la tapisserie musicale. Cette musique reflète clairement leurs réalités quotidiennes des villes modernes engageant nos pas du côté du Jazz, de la Fusion, du Jazz-rock ou de l'Ambient. Ces différents styles et influences se fondent sans effort en un seul son puissant, beau et magique, qui nous plonge dans un état de transe. Ce trio ne joue pas de musiques traditionnelles, comme l'annonce Jozef « j'ai tellement d'amour et de respect pour les musiques traditionnelles et en particulier pour celle du Mali, que je ne souhaiterais jamais seulement la copier ». Il y a une confiance basique profonde entre les musiciens qui est la trame fondamentale de leur jeu, une forme non-verbale de communication et de partage. Dans la tradition malienne, les griots sont là pour calmer les cœurs et les esprits. Pour Baba, « le Trio Bara est un exemple pour montrer au monde que la vie est simple et merveilleuse quand on vie ensemble dans la paix et le respect »
Votre snippet dynamique sera affiché ici... Ce message s'affiche parce que vous n'avez pas défini le filtre et le modèle à utiliser.