Rire avec Charlie - Samson Schmitt, Johan Dupont & Joachim Iannello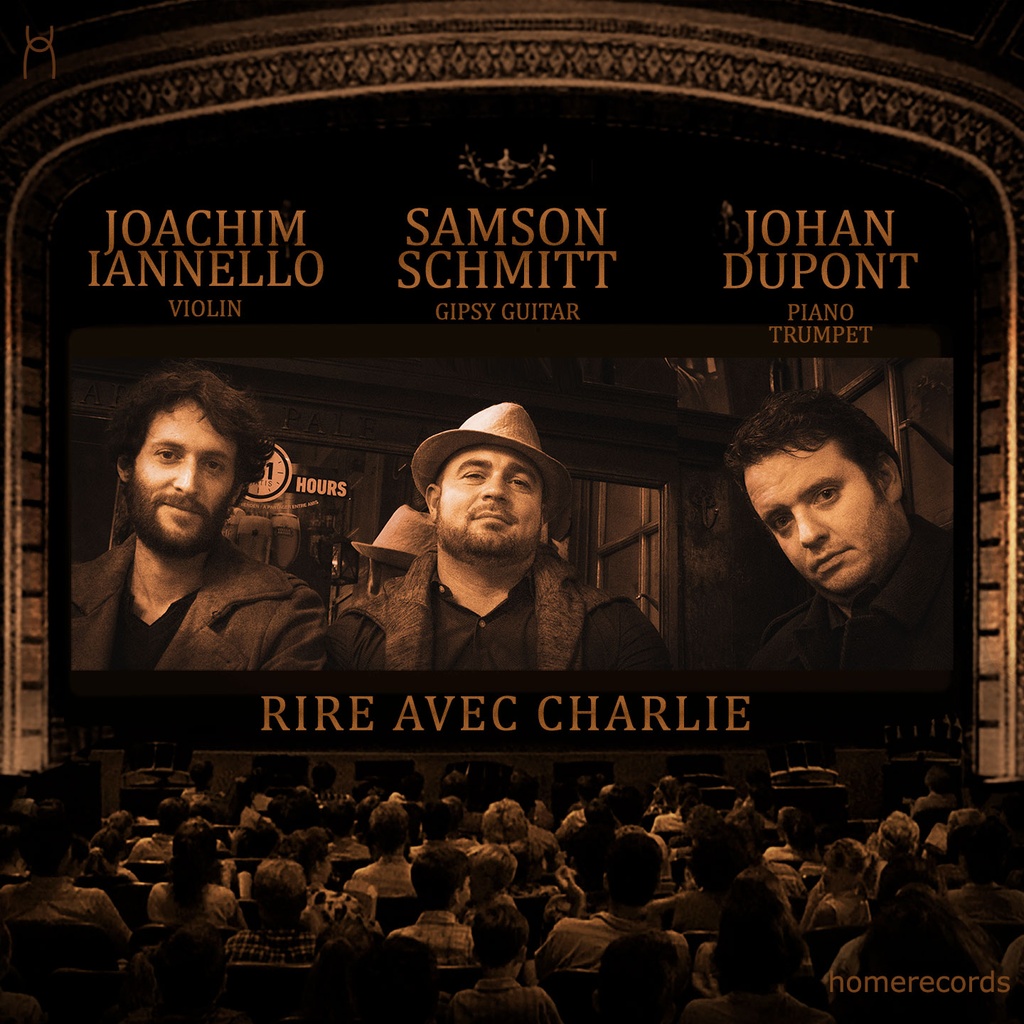 Rire avec Charlie - Samson Schmitt, Johan Dupont & Joachim Iannello
FR
« Rire avec Charlie », Charlie Chaplin bien sûr ! C'est une fête, une symphonie instantanée, puissante et belle, une convocation de talents rares qui va mettre tout le monde d'accord et pour longtemps. C'est la rencontre de Samson Schmitt avec deux musiciens liégeois exceptionnels : Johan Dupont et Joachim Iannello. Dans la galaxie Schmitt, Samson signe avec insolence la nouvelle histoire de la guitare manouche. Lyrisme, charme, puissance, inventivité, souplesse. Générosité. Tout y est, avec le son profond, le bending précis et la rythmique imparable. Ajoutez la virtuosité râpeuse et cuivrée du violon de Joachim, le génie swing et créatif de Johan Dupont et vous obtenez un cocktail de grande musique qui ne se cantonne nulle part. On accoste même la nouvelle rhapsodie, la bossa, le nu-jazz, l'Andalousie. Servi par des compositions qui sonnent comme des standards, on se dit en aparté que l'on est vernis par cette grâce offerte, sans chichi.
EN
''Rire avec Charlie'', Charlie Chaplin of course ! It is a feast, an impromptu symphony, powerful and beautiful, a meeting-point of rare talents that is going to unite people for a very long time. It's the encounter between Samson Schmitt and two exceptional musicians from Liège: Johan Dupont and Joachim Iannello. In the galaxy of Schmitt, Samson signed with audacity the new story of the gypsy guitar. Lyrical, charming, powerful, creative, flexible, generous - all at the same time. With profound music, precise bending, unstoppable rhythm. Add to it the ferocious and brassy virtuosity of Joachim's violin, the swing and creative genius of Johan Dupont and you'll get an unlimited cocktail of great music. You'll even get a taste of new rhapsody, bossa, nu-jazz, Andalusian. Served with sounds emblematic of benchmark compositions, we could say that we are satisfied with this delectable work, without fuss.
NL
Votre snippet dynamique sera affiché ici... Ce message s'affiche parce que vous n'avez pas défini le filtre et le modèle à utiliser.