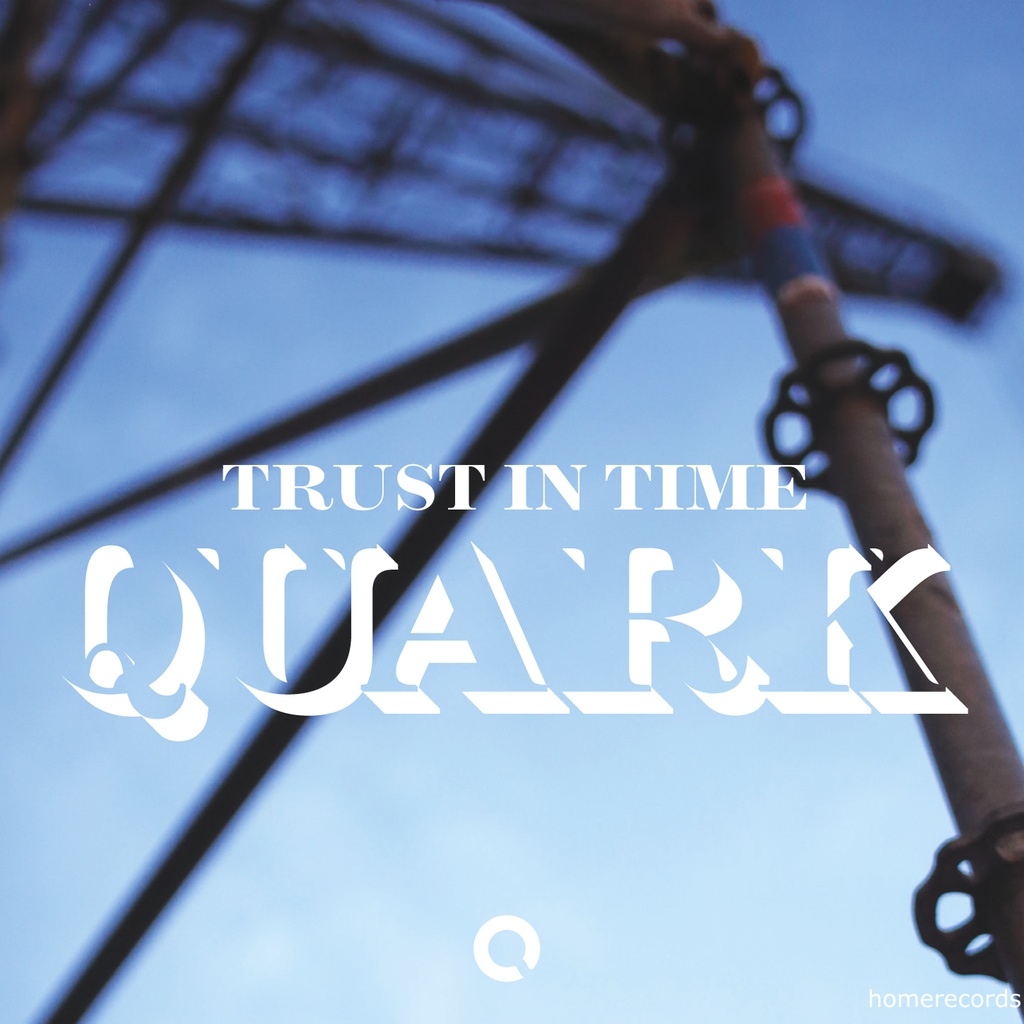 FR
Quark est le résultat d'une expérience musicale ayant pour ambition de fusionner le trombone « électronisé » et les compositions d'Adrien Lambinet au groove synthétique de la batterie d'Alain Deval (Collapse, Skiv Trio, Khartung…). Ces deux musiciens hors pairs, passionnés par la matière sonore tant naturelle qu'artificielle, aboutissent après plusieurs années de recherche à « Trust in Time », leur premier album enregistré sur le label Homerecords.be. A la fois minimaliste, vivante, chargée d'émotion et de retenue, chaque particule de l'album apparait comme singulière et personnelle. Pour l'album « Trust in Time », ils se sont entourés du talentueux et fougueux Gilles Mortiaux à la direction artistique et instruments divers, du quatuor à cordes MP4 et de la chanteuse Anu Junnonen. Ainsi paré, Quark nous promet de défier les lois de la physique !

EN
Quark is the result of a musical experiment whose aim it is to combine the "electronised" trombone and the compositions of Adrien Lambinet with the synthetic groove of the drums of Alain Deval (Collapse, Skiv Trio, Khartung…). These two peerless and outstanding musicians are passionate about the natural and artificial sound material. After several years of research, they finally recorded their first album, named "Trust in time", at the label Homerecords.be. At the same time the album can be described as minimalistic, animate, loaded with emotions and restraint, yet each particle of the album seems to be singular and personal. For the album "Trust in time", Adrien and Alain are accompanied by the talented and impetuous Gilles Mortiaux (artistic direction, diverse instruments), the string quartet MP4 and the singer Anu Junnonen. By this means, Quark promises to challenge the laws of physics!

NL
Quark is het resultaat van een muzikaal experiment dat de ambitie heeft de "geëlektroniseerde" trombone en de composities van Adrien Lambinet samen te smelten met de synthetische groove van de drums van Alain Deval (Collapse, Skiv Trio, Khartung…). Deze twee uitstekende muzikanten, gepassioneerd door natuurlijke en artificiële klanken, brengen na jaren van onderzoek hun eerste album "Trust in time" uit onder het label van Homerecords.be. Het geheel is tegelijkertijd minimalistisch en levendig, geladen met emoties en terughoudend. Ieder deeltje van dit album heeft een eigen karakter en een persoonlijke uitstraling. Het duo laat zich voor "Trust in time" vergezellen door de getalenteerde en onstuimige Gilles Mortiaux (artistieke leiding, diverse instrumenten), het strijkkwartet MP4 en de zangeres Anu Junnonen. Quark belooft ons een uitdaging aan de wetten van de fysica!
Votre snippet dynamique sera affiché ici... Ce message s'affiche parce que vous n'avez pas défini le filtre et le modèle à utiliser.