Codicille 2013 - Marc Malempré - Rémi Decker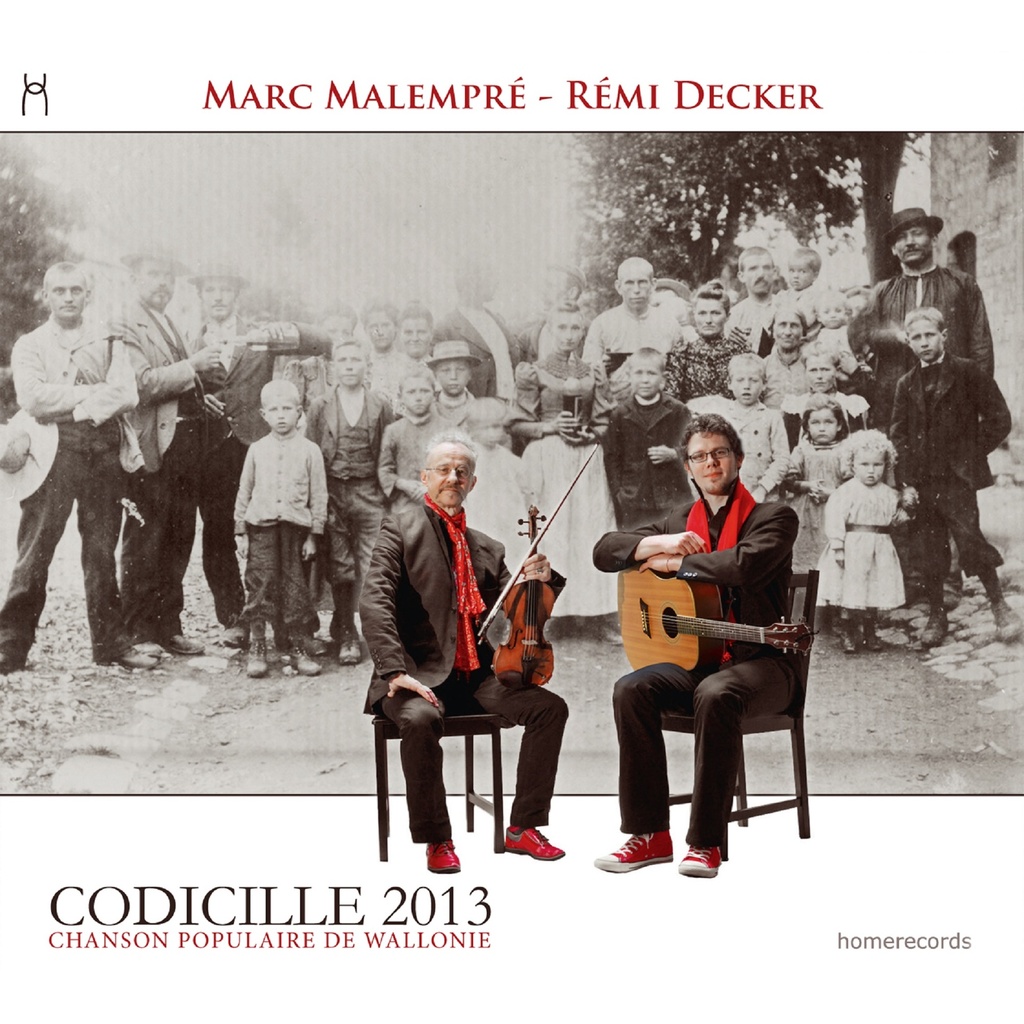 Codicille 2013 - Marc Malempré - Rémi Decker


FR
En 1872, la société Liégeoise de Littérature Wallonne institue un concours pour «la collection la plus complète d'airs de cramignons liégeois». Le premier prix est une médaille d'or de la valeur de 150 francs qui est attribuée à Léonard TERRY. Léopold CHAUMONT obtient l'accessit. C'est donc à partir de cette époque qu'une prise de conscience se manifeste : la culture traditionnelle est en voie de disparition. Ce recueil de cramignons, ainsi que des collectages personnels effectués en Ardennes ou des travaux réalisés par d'autres chercheurs sont nos sources. Les chansons qui composent ce CD sont issues de la tradition de chanteurs de village de Wallonie et un esprit populaire les anime. Les mélodies, les chants, les danses des dimanches de campagne furent la musique des humbles. Nous vous les proposons habillés ou non d'harmonies, en essayant de concilier hier et aujourd'hui.

EN
In 1872, the Society for Literature in Wallonie established a competition for the most complete collection of «Cramignons de Liège» - a type of folk dance unique to this region. The first price was a gold medal and 150 Francs. The winner of the contest was Leonard TERRY and Leopold CHAUMONT obtained the Certificate of merit. From this, we can see that there was already an awareness that the folk culture was dying out. This collection of «Cramignons», combined with personal collections of transcribed oral memory in the Ardennes and papers by other researchers, provide our sources. This CD is inspired by the traditional songs of village singers in Wallonie and we hope we have captured the popular spirit that drove them. The Sunday dances, songs and melodies played in the countryside of South Belgium represent the music of modest people. They are presented to you with or without additional harmony and they try to reconcile today's and yesterday's styles.

NL
In 1872 organiseerde de Luikse gemeenschap voor Waalse Literatuur een wedstrijd voor de meest complete collectie van Luikse 'cramignons' - een soort volksdans, typisch voor deze regio. De eerste prijs, een gouden medaille met een waarde van 150 francs, werd verleend aan Léonard TERRY. Léopold CHAUMONT behaalde het certificaat van verdienste. Vanaf deze periode begon men er zich dus duidelijk van bewust te worden dat de traditionele cultuur aan het verdwijnen was. Deze verzameling van cramignons, zoals ook persoonlijke verzamelingen in de Ardennen of werken van andere onderzoekers, zijn onze bron. De liedjes op deze CD horen bij de traditie van de Waalse dorpszangers en hebben een populaire geest. Melodieën, gezang, landelijke zondagsdansen, dat was de muziek van de bescheidenen. Wij presenteren deze muziek al dan niet gehuld in harmonieën. We trachten om het verleden en het heden met elkaar te verzoenen.
Votre snippet dynamique sera affiché ici... Ce message s'affiche parce que vous n'avez pas défini le filtre et le modèle à utiliser.