La creation du monde - Aurélia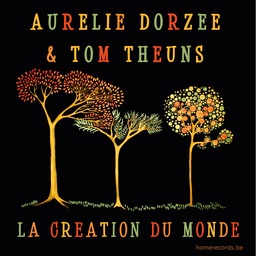 La creation du monde - Aurélia


FR
Sous l'influence de la transe Ouest-africaine, la musique d'Aurelia dégage quelque chose de tranquille et profond, le calme du blues Malien… C'est une rencontre magique entre 2 musiciens/chanteurs hyper créatifs et un maître de percussions africaines Serigne CM Gueye. Une musique envoûtante, des mélodies aux lignes pures et lumineuses Original : un vrai bonheur !

EN
By West African trance, the music from Aurelia searches for new horizons and finds a nest in the tranquilizing rythms and pureness of melody, the soothing sounds of the Mali blues. Combined with the typical Aurelia approach, this intense encounter results in honest and sparkling music.

NL
Onder invloed van de West-Afrikaanse trance herbront de muziek van Aurelia zich en straalt rust en melodische eenvoud uit, het zwoele van de Mali blues. Deze intense ontmoeting resulteert in heldere en eerlijke klanken waarin de typisch muzikale aanpak van Aurelia heerlijk gedijt.
Votre snippet dynamique sera affiché ici... Ce message s'affiche parce que vous n'avez pas défini le filtre et le modèle à utiliser.