Chansons pour la fin d'un jour - Emre Gültekin, Wouter Vandenabeele, Ertan Tekin, Joris Vanvinckenroye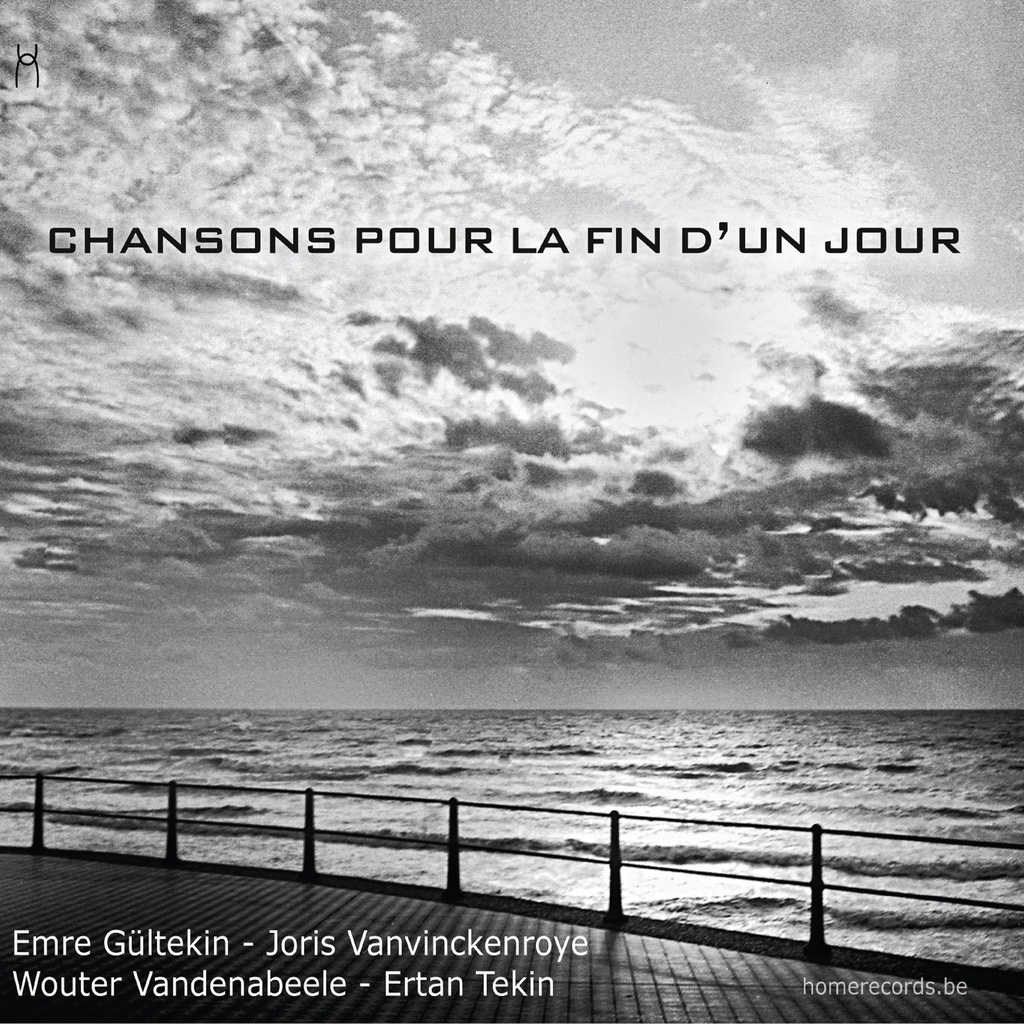 Chansons pour la fin d'un jour - Emre Gültekin, Wouter Vandenabeele, Ertan Tekin, Joris Vanvinckenroye


FR
« Chansons pour la fin d'un jour » ou rêves d'étonnantes rencontres, des histoires d'Anatolie centrale à Bruxelles les bains... évoqués par le chant du doudouk, la clarté du violon, l'harmonie du saz et la subtile retenue de la contrebasse. Composé comme le second chapitre de l'album « Chansons sans paroles », ce nouvel opus est né de souvenirs de voyages au cœur des pays de l'Est. Un nouvel album où l'absence de mots n'existe plus ... C'est album réuni deux ambassadeurs de la musique turque, Emre Gültekin au saz, un luth d'origine persane et Ertan Tekin au duduk, un hautbois arménien, à la virtuosité du violoniste Wouter Vandenabeele et à l'excellente contrebasse de Joris Vanvinckenroye. Les compositions clairement colorées sont empruntes de traditions musicales des chemins parcourus lors de nombreux voyages.

EN
« Chansons pour la fin d'un jour » or dreams through amazing stories of central Anatolia to Brussels baths... evoked by the singing of the duduk, the clarity of the violin, the harmony of the saz and the subtle play of the double bass. Composed like the second chapter of the album « Chansons sans paroles » (nominated by Belgian Klara Radio Music Awards 2007), this new album was born from memories of journeys to the heart of Eastern Europe bringing together two ambassadors of Turkish music, Emre Gültekin playing the saz a long-necked Ottoman lute andErtan Tekin playing the duduk an ancient armenian wind instrument with double reed, and a virtuoso violinist Wouter Vandenabeele and the excellent double bass of Joris Vanvinckenroye.

NL
Na een succesvolle en poëtische eerste cd 'Chansons sans paroles' (genomineerd voor de Klara-muziekprijzen 2007) komt violist Wouter Vandenabeele (Olla Vogala) nu met een vervolgverhaal waarin de Oriënt haar intrede doet. Van de afwezigheid van woorden is er ondertussen niet langer sprake... Dromerige muziek over reizen en ontmoetingen, soms gebaseerd op verhalen uit centraal Anatolië, dan weer gebaseerd op verhalen uit het Waasland, geëvoceerd door de prachtige klanken van bas, doudouk, viool, saz en zang... Voor dit nieuwe muzikale hoofdstuk verzamelde Wouter opnieuw prachtige muzikanten om zich heen - Emre Gültekin (saz, baglama en zang), Joris Vanvinckenroye (contrabas) en Ertan Tekin (doudouk, zurna en mey) uit Istanbul.
Votre snippet dynamique sera affiché ici... Ce message s'affiche parce que vous n'avez pas défini le filtre et le modèle à utiliser.