Doré à point - À Consommer De Préférence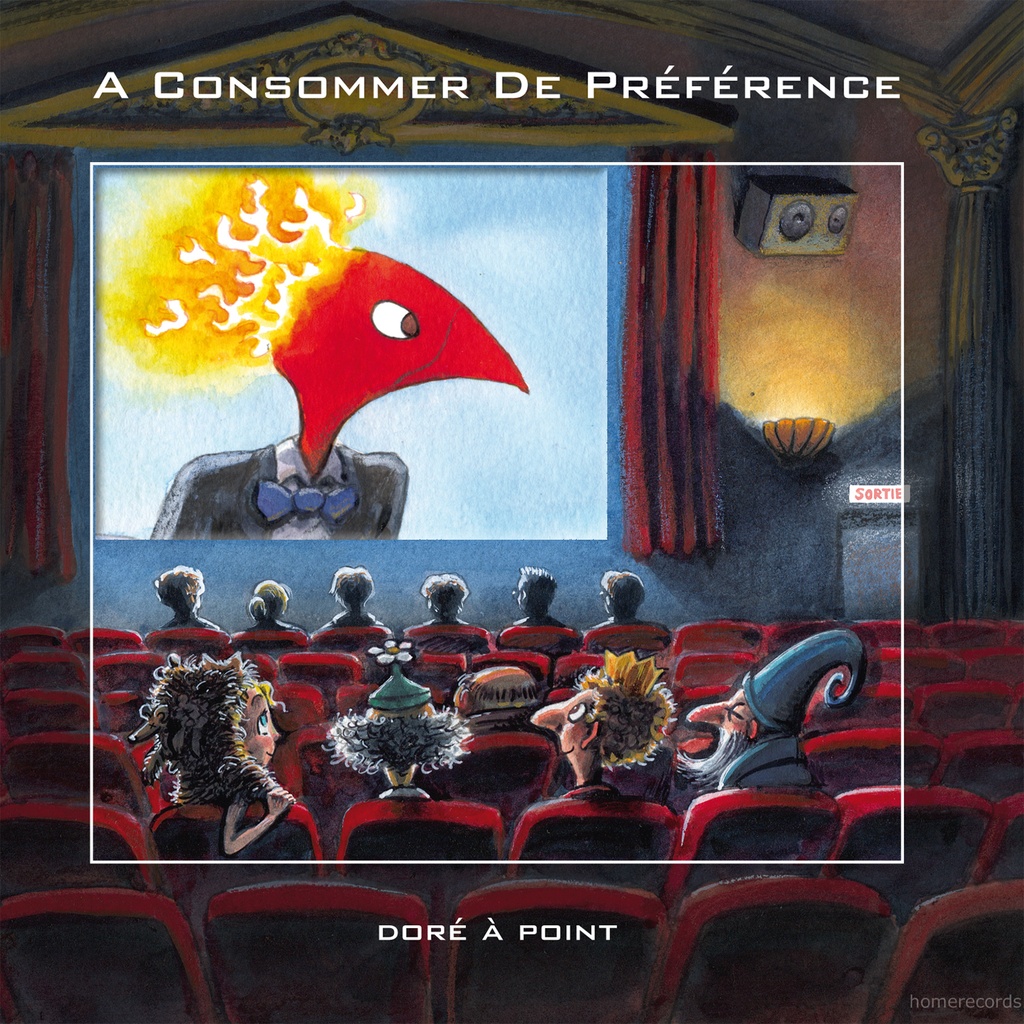 Doré à point - À Consommer De Préférence


FR
Avec ce second album "doré à point", A Consommer De Préférence sonde plus profondément encore les liens qui peuvent unir la narration, l'image et la musique. Les tableaux musicaux s'affinent et se diversifient, s'étirent et se contractent, passant sans détours du format extra large à l'Interstice – souvent court mais toujours bref ! Les compositions originales des frères Aussems capturent littéralement l'oreille, et se laissent consommer comme du petit-lait dans un espace tonique, frais et enjoué. Pour ceux qui s'inquièteraient encore de savoir dans quelle catégorie les classer, sachez que si l'on devine bien leurs racines, les branches s'élancent de manière inattendue donnant lieu à des fruits on ne peut plus savoureux. Mais quelles que soient vos préférences alimentaires, rassurez-vous ! Ces six jeunes musiciens, élevés en plein air, jouent sur de véritables instruments et leur musique, sans date limite, ne fait pas grossir !

EN
"With this second album « doré à point » (homerecords.be 2009), A Consommer De Préférence sounds out yet more deeply the links that can unite narration, image and music. The musical pictures become more refined and diversified, they stretch, shrink and go straight from extra-large to a « interstice » – often short but always brief ! The original compositions of the Aussems Brothers literally capture your ear and slip down like sweet milk in a tonic, fresh and light-hearted space. For those who still worry about how to categorise them: know that if we easily figure out the roots, the branches soar up in unexpected ways and bear the tastiest fruits. But whatever your tastes, never fear! These six young musicians, raised in the open air, play real instruments and their music, with unlimited shelf life, isn't fattening!"

NL
Met hun tweede album "doré à point" (homerecords.be 2009) legt A Consommer De Préferénce nog dieper de nadruk op de nauwe banden die verhaal, beeld en muziek kunnen verbinden. De muzikale taferelen worden almaar accurater en veelzijdiger, ze strekken zich uit om zich daarna nog beter samen te trekken, ze gaan zonder omwegen van een extra-breed formaat naar de Interstitie – vaak kort maar altijd bondig ! De originele composities van de broers Aussems houden de aandacht gevangen en laten zich makkelijk genieten in een opwekkende, verse en uitgelaten sfeer. Voor zij die zich nog zouden afvragen in welke categorie deze muziek dient ondergebracht te worden, weet dat zelfs kun de wortels zich laten raden, de boomtakken zich op onvoorspelbare wijze uitstrekken toe, wat leidt tot onzettend smakelijke vruchten. Maar wat ook jullie voedsel-voorkeur mage zijn, wees gerust! Deze zes jonge muzikanten, opgegroeid in de buitenlucht, spelen op 'echte' muziekinstrumenten en hun muziek, zonder vervaldatum, zal u niet dikker maken!
Votre snippet dynamique sera affiché ici... Ce message s'affiche parce que vous n'avez pas défini le filtre et le modèle à utiliser.