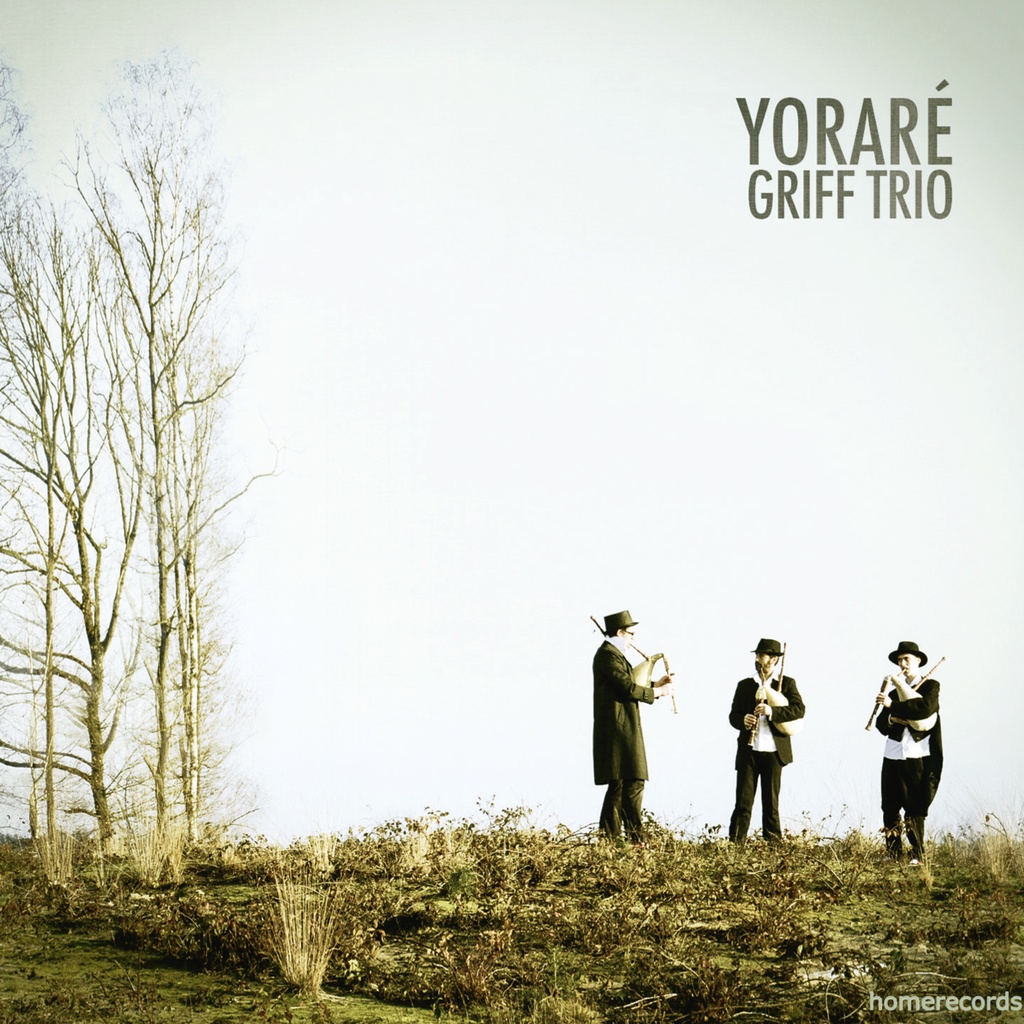 FR
Attachez vos tympans: embarquement immédiat dans un tri-moteur turbo-créatif, destination Belgique/België/Belgien (euh.. chez nous donc)! Après plus de 10 ans d'existence, les 3 musiciens de Griff Trio vous proposent (enfin) un programme labellisé "100% belge"! Fidèles à leurs "outres-à- tuyaux", voix et autres flûtes, ces 3 auteurs de l'air vous font traverser le mur du son et des sens grâce à ces polyphonies planantes dont ils sont passées maîtres! Des chansons coquines aux 'briolages' en passant par des ballades épiques et "cornemusesques", ils "façonnent l'air à leur manière", et on ne peut qu'ajouter qu'ils le font de manière tout à fait séduisante. Mieux que n'importe quel tour opérateur, Griff Trio vous fait voyager à travers temps, espace et sentiments...

EN
Some years ago, 3 pipers, entirely nude, without any rhythm section, already blew away the dust of old myths about bagpipes: "Pipes but no kilt", was their motto... Today, those 3 pipers are back and happy to blow away even more dust: they present you a "certified 100% Belgian" program! Next to the bagpipes, whistles and vocals has now taken an important place. Still in the same polyphonical mind. They've put their noses into dusty Walloon manuscripts, old Flemish song books, listened to rattling field recordings... it was like reading grandparent's personal diaries. Simple people's stories, anecdotes of yesteryears... The humble melodies of rural dances. They could have played those melodies, sung those songs in their most rough form, like a bunch of photocopies, but they preferred to confront them to their imagination and artistic desires... The result is far from nostalgia, but the breath of three XXIst century troubadours.

NL
Enkele jaren geleden bliezen 3 doedelzakspelers, geheel naakt, zonder ritmesectie, het stof van oude mythes over doedelzakken: "Pipes but no kilt", was hun motto .... Vandaag, zijn die 3 doedelzakspelers terug. Verheugd om nog meer stof te doen opwaaien: ze presenteren U een "gecertificeerd 100% Belgisch" programma! Houdt uw trommelvliezen goed vast voor een onmiddellijk vertrek in een Tri-motor Turbo-Creatief Vliegtuig met bestemming België / Belgique / Belgien (ehm… sja bij ons dus)! Trouw aan hun "buizen-en-pijpen-gereedschap", stem en andere fluiten, brengen deze drie wind-blazers U ver doorheen de muur van geluid en zintuiglijkheden door middel van nazinderende polyfonieën die zij als geen ander weten te beheersen! Van ondeugende liedjes doorspekt met "koeherdersroepen", tot epische ballades en "doedelzakheden à la cornemuse", zij "vervormen de lucht op hun manier geheel doorlucht", .. ja men kan zelfs toegeven dat ze dat heel verleidelijk doen. Beter dan eender welk touroperator, Griff Trio doet U reizen door tijd, ruimte en gevoel ...
Votre snippet dynamique sera affiché ici... Ce message s'affiche parce que vous n'avez pas défini le filtre et le modèle à utiliser.