Grive générale! - Turdus Philomelos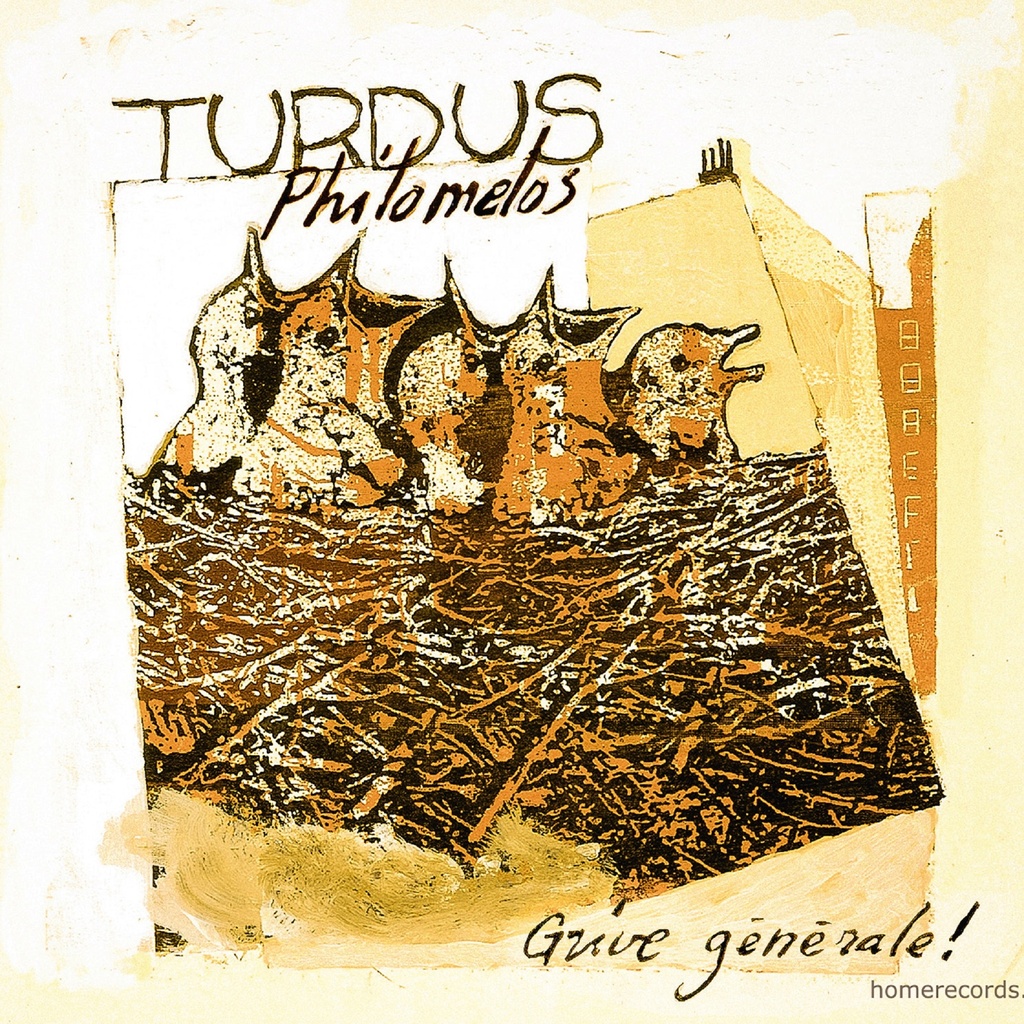 Grive générale! - Turdus Philomelos


FR
Tout porte à croire que rien n'arrêtera la Grive générale... à nouveau, cet album tient d'une espèce d'urgence, une urgence à festoyer et à rire. L'eau a coulé sous les nids depuis leur premier disque, mais il garde la vitalité de la recherche, une allergie aux conventions, une certaine forme d'insoumission chargée d'humour. La musique des turdus a quelque chose de protéiforme, enivrante et tendre, risquée, joyeuse leurs morceaux portent des histoires pas toujours drôles, en général pas tristes, de toute façon pas piquées des vers, protéines musicales, celles-là mêmes qu'avalent les oisillons entre deux cris.

EN
What will detain the « Grive Générale* » now? Turdus' music comes from urge, urge to laugh, urge for joy. Time has passed since their first album, but still they keep the quest alive, and certain elusiveness to conventions. A humorous form of disobedience. A protean intoxication, tender, risky and merry. They sing songs of bliss and sorrow. The songs of thrushes in sunlit days on Belgian plains. *Grive, thrush, is a French pun on grève, meaning strike.

NL
Grive générale - Luisterlijster Alles wijst erop dat niets de Luisterlijster nog in de weg kan staan. We hebben hier opnieuw een album dat ontstaan is uit een soort drang, een drang om te feesten en luidop te lachen. Er is al veel gebeurd sinds hun eerste opname, maar het leven blijft erin, het zoeken, de afkeer van het conventionele, een soort met humor geladen verzet. Turdus' muziek is veelvormig, teder en roezig, gewaagd en vrolijk zonder vrees. Wat hun nummers vertellen is niet altijd grappig, maar over het algemeen ook niet droevig, en altijd flink gedurfd. Voer voor lijsterjongen.
Votre snippet dynamique sera affiché ici... Ce message s'affiche parce que vous n'avez pas défini le filtre et le modèle à utiliser.