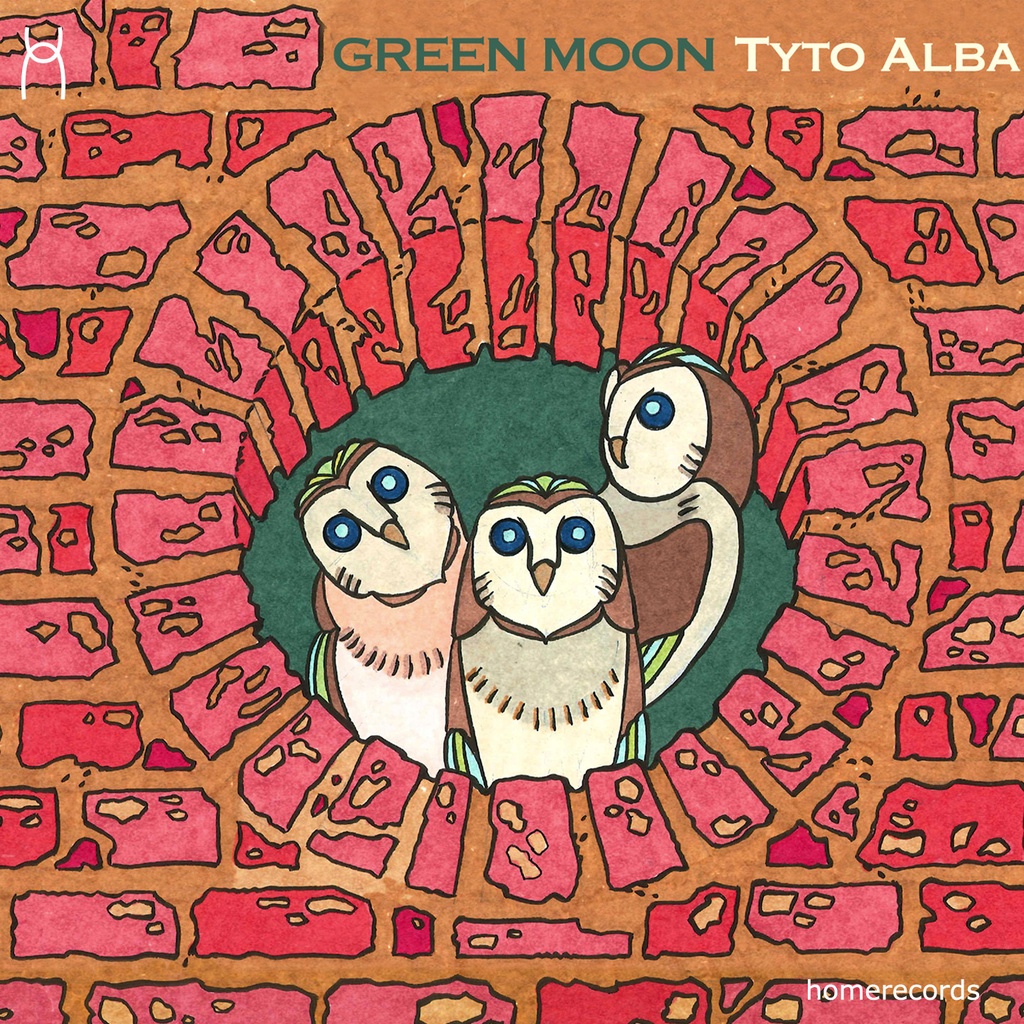 FR
Green Moon nous est arrivé sous la forme de trois renards musiciens, jouant l'un de la contrebasse, l'autre de la guitare, le troisième du violon et de la mandoline, à moins que ce ne soit l'inverse car les instruments circulent. Ils reviennent ici en oiseaux, et pas n'importe quel oiseau : Tyto Alba. L'effraie des clochers, son autre nom, est ce nocturne élégant qui habite clochers et greniers. Un vol silencieux, un oiseau un peu furtif mais dont les cris s'entendent loin, très loin… Un oiseau en couple fidèle, fidèle à l'autre et fidèle aux lieux, fidèle aussi à ses nombreux petits que l'on peut observer au coin d'une lucarne, attendant la pitance. Trois musiciens fidèles qui volent ensemble de morceaux en morceaux. Comme le vol ondulant de ce bel oiseau, la musique s'éloigne, revient puis retourne, des brumes d'Irlande aux horizons plus vastes de l'Europe centrale, du nord, du sud… Au détour d'un phrasé le rythme s'accélère et vous êtes transportés dans un pub de Cork ou de Galway.

EN
Green Moon first appeared to us in the form of three foxes : one playing the double bass, the other playing the guitar and the third one playing the violin and the mandolin, or perhaps the other way around as the instruments pass from one hand to another. Now they're back as birds, but not the ordinary type : Tyto alba. Also known as a barn owl, an elegant nocturnal creature that resides in bell towers and garrets. Flying gracefully, a stealthy creature whose cries can be heard from afar… Faithful birds, faithful to each other and to their habitat, also faithful to their offspring nestling in the corner of a dormer, waiting for their victuals. Together, three faithful musicians hovering from piece to piece. Similar to the graceful glide of this fascinating creature, the music drifts away, comes and goes, as the Irish fog hovers on the vast horizons of Central, Northern and Southern Europe… Midway, the rythm accelerates and you are transported to a pub in Cork or Galway.
Votre snippet dynamique sera affiché ici... Ce message s'affiche parce que vous n'avez pas défini le filtre et le modèle à utiliser.