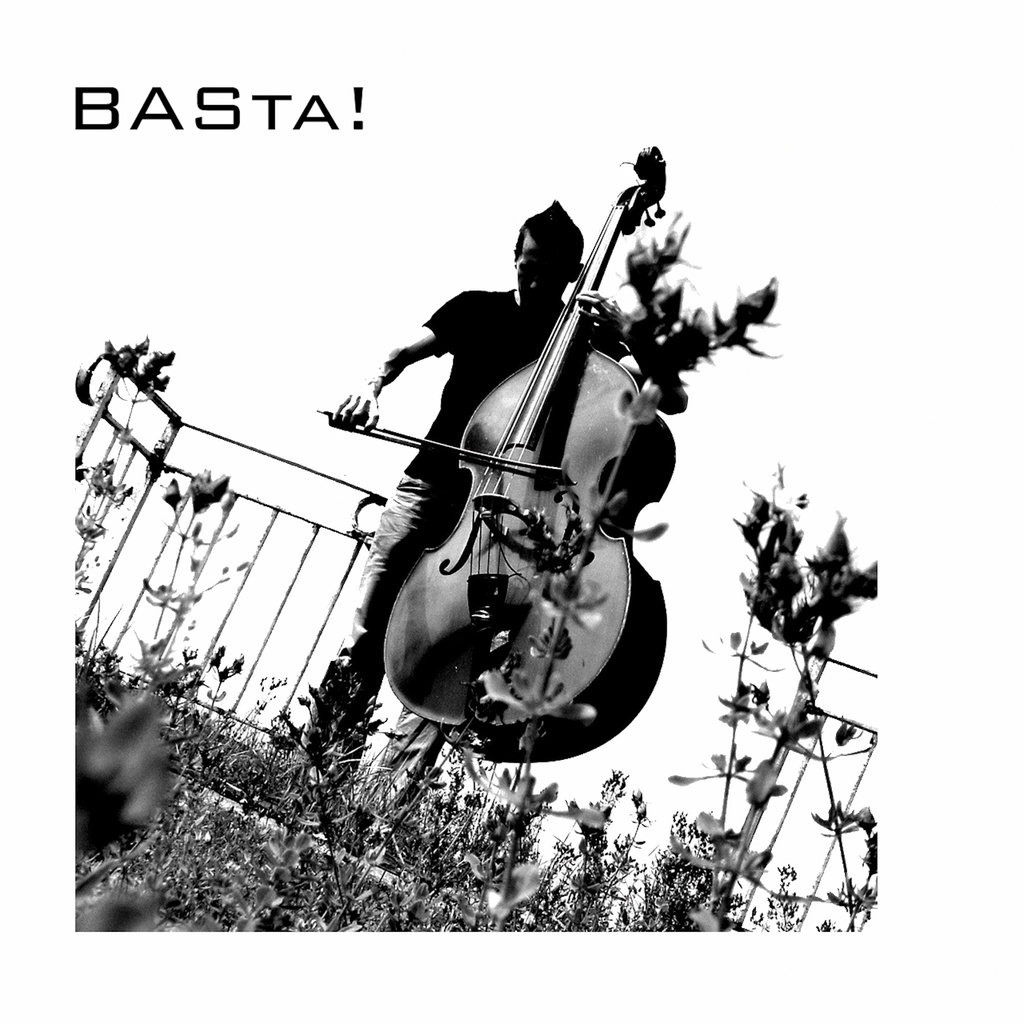 FR
Basta, un album solo de contrebasse du compositeur Joris Vanvinckenroye. Il crée un son d'orchestre dans son propre style typique de la fusion cinématographique. Des éléments de musique classique, rock, jazz et folk sont combinés pour aboutir à un tout organique ... 34 dates de concerts en BE, NL et UK. La presse sur BAStA! : …Joris Vanvinckenroye se dirige surtout vers une direction 'rock, folk et musique minimaliste, la mélancolie n'est jamais très loin. Parfois sombre, parfois un cyclone de son.. » De Zondag "Bassiste Joris Vanvinckenroye est un compositeur visionnaire qui ne se laisse pas bloquer par les règles musicales et se laisse guider par ses sentiments... » Stage Mag 'Le style filmique de Joris Vanvinckenroye se déroule entre des pièces de musique explosive et un minimalisme calme. Dans sa tête, on trouve Astor Piazolla à côté de John Cale et Jethro Tull. Des rencontres entre eux ne sont jamais le forcé... ' De Tijd

EN
BASta! is a one man band by double-bass player and composer Joris Vanvinckenroye. …He records himself while playing and in this way creates an orchestral sound in his own typical cinematic fusion style. Elements of classical music, rock, jazz and folk are combined to reach an organic whole… A tour of 34 concerts in BE, NL & UK. Joris is also founder and composer of Aranis, a group from Antwerp that won several prices in the last couple of years (Jeugd en Muziek Prijs Chamber music, Klara Trofee for the most intriguing concert, Mano Mundo public award,…) On their list of records are two CDs, a single and a vinyl record, and a third CD is expected by fall 2009. The group gave concerts at home and abroad and already teamed up with various musicians, e.g. flute-player Toon Fret and 'multimusician' Jan Marmenout. "Joris Vanvinckenroye is mostly inspired by rock, folk and minimal music. Melancholy is never far away, sometimes soberly and sometimes like a tornado of sounds." De Zondag "Bass player Joris Vanvinckenroye is a composer with a vision, who doesn't let certain musical rules get in his way, and who is guided solely by his instinct." Stage Magazine "The cinematic style of Joris Vanvinckenroye is a constant alternation of explosive bits of music and stilled minimalism. In his head Astor Piazolla lives right next-door to John Cale and Jethro Tull. Mutual visits never seem to sound artificial." De Tijd.

NL
Orchestral solo bass. Joris Vanvinckenroye is contrabassist én componist. Hij was één van de oprichters en bezielers van Troissoeur & Aranis waar hij een belangrijke functie kende als componist. Een tour van 34 concerten in BE, NL & UK. Pers over BASta!: "…Met toestellen waarmee hij zichzelf opneemt bekomt hij een orkestrale sound in zijn typische filmische mengstijl . Elementen uit klassieke muziek, rock, jazz en folk worden gecombineerd tot een organisch geheel…" "Joris Vanvinckenroye gaat vooral de toer op van rock, folk en minimal music. Melancholie loert om de hoek, soms sober, soms als een wervelstorm van klanken". De Zondag "Bassist Joris Vanvinckenroye is een componist met een visie die zich niet laat afschrikken door bepaalde muzikale wetmatigheden en zich louter laat leiden door zijn gevoel." Stage Magazine "Joris Vanvinckenroye zijn filmische stijl laveert tussen explosieve brokken muziek en verstild minimalisme. In zijn hoofd woont Astor Piazolla naast John Cale en Jethro Tull. Onderlinge bezoekjes doen nooit geforceerd aan..." De Tijd
Votre snippet dynamique sera affiché ici... Ce message s'affiche parce que vous n'avez pas défini le filtre et le modèle à utiliser.